After a whirlwind week, Will and Kate's tour of India and Bhutan is over. This blog post will be dedicated to Kate's fashion moments from April 11-16. For my blog post on Kate's arrival in India and her first few outfits visit here. I also wrote a separate post on her Jenny Packham gown from the 'Bollywood Dinner' which you can find here. 🙂
April 11, 2016
On April 11, Will and Kate spoke with tech entrepreneurs, visited India Gate, and paid respects to Mahatma Gandhi. The first photos I saw of this event were of Kate and Will meeting with a man who invented a machine that automatically makes dosa for breakfast in the morning after you pour batter into it. I think it must be set on a timer like when you time your coffee at night before you go to bed and then it just brews itself automatically in the morning. Dosas are kind of like Indian crepes. William tried to make one himself but then when he offered it to Kate she didn't want to try it. Some people in India are saying that this came across as rude, as you are not supposed to turn down food when your host offers it to you. But I suspect that it may be because Kate doesn't like to be photographed eating because that can result in some really unflattering pictures. Heaven knows the press have had a field day with Camilla whenever she eats something. They always print the most unflattering pictures of her afterwards.
Kate wore a white midi-dress by Emilia Wickstead for 1,700 pounds for the first events of the day. That translates to more than 2,000 US dollars which I honestly think is a bit overpriced for such a simple dress. I like the collar and the overall shape and structure of the dress and I think it is an appropriately modest length although the fake pocket flaps on the busts may have been better if they were positioned on the skirt of the dress itself. I like dresses with real pockets in the skirt and think it can be really cute. My first impression of the dress was that Kate probably chose white to keep cool in the Mumbai and New Delhi heat. However, the dress is actually wool-crepe, so it is debatable as to how cool (temperature wise) the dress could actually be. She accessorized with an oatmeal/almost nude Mulberry clutch and light pink/almost nude Rupert Sanderson pumps.
This dress by Warehouse from ASOS has a similar Peter Pan collar and looks kind of like Kate's but the flap pocket detailing is on the skirt. It's only $47.
Find it here:
https://api.shopstyle.com/action/apiVisitRetailer?id=474832371&pid=uid9225-31713435-16
I'm pretty sure these are Kate's Rupert Sanderson pumps. But all of her shoes look alike so it is hard to tell sometimes.
See them here:
https://api.shopstyle.com/action/apiVisitRetailer?id=512218254&pid=uid9225-31713435-16
These Michael Kors pumps look very, very similar and are a fraction of the price.
See them here:
https://api.shopstyle.com/action/apiVisitRetailer?id=295758594&pid=uid9225-31713435-16
Like many other fashion bloggers, I would really, really love to see Kate experiment a bit more with her shoes and bags. She has dozens of nude or basically nude colored clutches and pumps. A clutch bag is not always appropriate for day wear and sometimes an outfit needs a splash of color. I understand that Kate had to pay respects at India Gate, which is the Indian equivalent to the Tomb of the Unknown Soldier, so she may not have wanted to be too loud with her fashion on this day. But it would have been fine to wear a navy blue bag and shoes or maybe even just a darker shade of pink. Not too bright, just enough that the color picks up well on camera and it contrasts against the white dress. Otherwise, the outfit looks too washed out.
Maybe something like these navy pumps by Charles David Pact? These are under $100 and are still a 'safe' color for Kate if she didn't want to be too colorful.
https://api.shopstyle.com/action/apiVisitRetailer?id=409671457&pid=uid9225-31713435-16
Or maybe this shade of pink from Christian Louboutin. It would have photographed better than the light pink pair that Kate wore that basically just looked like all of her nude shoes.
See them here:
https://api.shopstyle.com/action/apiVisitRetailer?id=505292178&pid=uid9225-31713435-16
By now most people who have been following the Cambridges know what happened at India Gate. Kate's dress flew up as she was walking and while she was trying to place the flowers. I won't sugar coat it, this was pretty embarrassing. And a so called "Marilyn Monroe" moment couldn't have happened at a more inappropriate time. I admit that I have had a sudden gust of wind blow my skirt up before. It is really embarrassing. The queen always takes certain precautions with her wardrobe. She wears weights in her hems, but she also has her dresser, Angela Kelly, make slips that go underneath her skirts that are the same color as her skirt. It is important for Kate to wear a skirt that is fitted more closely to her body when she is going to be outside the way the queen does and she should also have weights sewn into her hems. And always, ALWAYS wear underwear because Kate has been photographed without underwear while working at an official event. Most royal women have had their skirts fly up once or twice by accident, but Kate has had it happen too often over the past five years so something needs to change. The Indian press was deeply offended and it reflects badly on the Queen.
At the very end of the second day of their tour, Will and Kate attended a garden party in honor of the Queen's 90th birthday. Kate got a chance to cut a cake with a sword, which sounds like fun. 🙂 Then she and Will mingled with the 2,000 guests that included people from the realm of academia, business, politics, and the military. Kate wore a Temperley London crop top and skirt by Alice Temperely. To my knowledge, Kate has never worn something like a crop top and maxi skirt quite like this before and I like it when she tries something different. I like the black embroidery on the white dress, but again I wish she would accessorize differently. A red clutch and red shoes would have contrasted well against the stark black and white of this ensemble or really any other color would have worked for that matter. The black and white is a blank slate kind of like the white Wickstead dress she wore earlier in the day. Kate has so many black and nude clutches and purses she really doesn't need to buy any more.
Here is the top:
https://api.shopstyle.com/action/apiVisitRetailer?id=501290013&pid=uid9225-31713435-16
And here is the skirt:
https://api.shopstyle.com/action/apiVisitRetailer?id=501290021&pid=uid9225-31713435-16
Personally, this is my favorite dress from the Temperley Spring 2016 collection. I think Kate would look pretty in it if she wore a shell underneath or added some fabric to make it less low-cut.
See it here:
https://api.shopstyle.com/action/apiVisitRetailer?id=513975913&pid=uid9225-31713435-16
April 12, 2016
The events from the morning of April 12 have been some of my favorite from this entire tour not so much because of what Kate wore, but because of the activities that took place. I love children and have worked with them off and on for years so I loved being able to see Kate sit on the floor and play games and draw with the children. I would love to see her do this more.
Will and Kate visited Salaam Baalak Trust. This organization won the National Award for Child Welfare in 2011. This is a description of the organization from their website:
"Salaam Baalak Trust is an Indian non-profit and non-governmental organization which provides a sensitive and caring environment to street and working children in Delhi, India.
We help nurture their dreams and make them realize that their fate can be crafted by their own heart, their own hands and a firm resolve."
For the occasion, Kate wore a maxi dress by Glamorous, a British Label, that cost about $80. I think it was appropriate for Kate to wear something less expensive since her other clothing choices for the rest of the tour were pretty expensive, by and large. She wore the maxi dress with brand new Russell and Bromley flats. I'm glad to see she wore some flat shoes for this event because watching her play cricket in wedge heels made my feet hurt in sympathy pain! 🙂
I've never been one to wear maxi dresses, mainly because I am only five feet tall and any maxi dress would drag on the floor on me. But I think they can be fun for some women who can pull it off. There is a bohemian free spirit vibe going on with this dress. I found one in a similar style by London Times on sale for $50. I live in the south so long sleeves like Kate's aren't really practical for the Summer.
Find it here:
https://api.shopstyle.com/action/apiVisitRetailer?id=514289277&pid=uid9225-31713435-16
Later that same day, Will and Kate met with the Prime Minister of India, Naranda Modi to have lunch. Kate changed into a Temperley London dress in a really pretty jade color. I think that this color really suits Kate and it is a color I would wear myself. I also like that she wore her hair up and I wish she would have worn it up more throughout the tour in general. However, I don't think the bodice of the dress is fitted properly. As it turns out, the dress was originally completely transparent in the front with the original model showing off some serious cleavage. So Kate's assistant helped her add 'modesty panels' to the dress so that it would be appropriate for her to wear for this lunch. I believe that in placing these modesty panels the dress lost some of its original structure and pulled on her bodice in an unnatural way. So I would love this dress if it had been tailored properly to fit her better around the chest area.
Kate was also sporting some new Kiki McDonough earrings. McDonough is one of Kate's favorite jewelry designers. The press are reporting that these earrings may have been a 'push present' given to Kate after Princess Charlotte was born. But while Charlotte's birthstone is an emerald, these earrings are green tourmaline and amethyst.
After their lunch with the Indian Prime Minister, Kate and Will flew to Assem where they were greeted with a campfire celebration.
Kate arrived in the same dress she wore to lunch with the Prime Minister but she quickly changed into a maxi dress by Anna Sui. The dress's design was inspired by mid-century Scandinavian styles. I felt like there was a lot of pattern going on in one dress. Kate chose to wear Wedges, which quickly became muddied. I wish she would have worn some sensible sandals.
See it here:
https://api.shopstyle.com/action/apiVisitRetailer?id=493502427&pid=uid9225-31713435-16
When it comes to shoes, I would have opted for really simple black sandals because of how busy the print is on the dress. I also probably wouldn't have worn anything too expensive. Something like these H&M sandals for $14.99.
See them here:
https://api.shopstyle.com/action/apiVisitRetailer?id=519807598&pid=uid9225-31713435-16
April 13, 2016
On April 13, Kate and Will took a Safari tour of Kaziranga National Park. They got to feed baby elephants and rhinos with giant bottles, which is basically my dream. It's just too gosh darn cute!!!
Kate wore an embroidered dress by Topshop and wedges. Again, I kind of feel like sandals or flats of some kind would have been more practical but maybe Kate's ankles are just stronger than mine are!
The dress that Kate wore is no longer available but here is another embroidered smock dress by Topshop for $68.
See it here:
https://api.shopstyle.com/action/apiVisitRetailer?id=507613841&pid=uid9225-31713435-16
Then William and Kate went on a safari. It felt a little bit more like a vacation than an official tour to me at this point but that may be because William was originally scheduled to give a speech on poaching on this day but for some reason he didn't. Maybe he ran out of time or something happened but I think if William gave a speech it would have felt more like an official visit and not just a vacation. I would have liked to hear some informational facts and figures concerning what Kaziranga does to help these animals. Unfortunately, the day after William and Kate's visit a rhino was killed by poachers close by to where the royal couple went on their safari.
Kate wore a blouse that was given to her by RM Williams during her tour of Australia and New Zealand in 2014. She also wore one of her favorite pairs of earrings. Citrine drops by Kiki McDonough. Here are the same pair with blue topaz instead of citrine.
See them here:
https://api.shopstyle.com/action/apiVisitRetailer?id=409204438&pid=uid9225-31713435-16
Kate wore some flats this time, though. She wore these Sebago Bala shoes.
See them here:
https://api.shopstyle.com/action/apiVisitRetailer?id=504477237&pid=uid9225-31713435-16
April 14th, 2016
On April 14th, the Cambridges flew to Bhutan. They were greeted by Princess Chimi, the sister of the King of Bhutan, and her husband.
Kate wore an Emila Wickstead coat that she has worn before and probably purchased in 2012. I like the color of the coat. It's a pretty soft yellow like buttermilk. But alas, she chose a beige clutch and nude heels. I have already established that I would like to see Kate experiment with her shoes and bags. But I will also add that I think this coat would have looked lovely with a pretty brooch. Kate was not loaned any jewelry by the Queen for this tour and it is not exactly clear why. But Kate does own at least one brooch of her own that she could have brought with her. She was last seen wearing it at Christmas.
The brooch is an oak leaf with little acorns on it because Kate's family crest has acorns incorporated into the design. The brooch, being entirely diamonds with no other colored stones, may not have showed up well against the light yellow coat but it still would have added a little extra sparkle. In general I wish Kate would wear more brooches. She has a very large collection of coats and dress-coats that would look great with some pretty brooches. But I am of the opinion that as a duchess and future Princess of Wales Kate should wear more diamond jewelry than she does especially when she is representing the Queen abroad. She has been royal for five years now so I think it is a good time for her to start wearing more jewelry. Maybe William should buy her a new brooch as a gift for their five year anniversary?
After arriving in Bhutan, the Duke and Duchess of Cambridge met with King Jigme and Queen Jetsun. Kate changed into an interesting outfit. It wasn't traditional Bhutanese clothes; rather, it was a skirt made in London by unidentified designer using fabric made in Bhutan coupled with a top made by Paul and Joe. I like the top, although the skirt had an awkwardly placed slit in the front that kept blowing open. I think that maybe it could have been designed differently to avoid that from happening. Or, Kate could have just worn traditional Bhutanese clothes. I don't see anything wrong with that.
That night, Will and Kate attended a reception with the King and Queen. Kate wore a Tory Burch dress and a pretty orange shawl, a color she never wears. I thought she looked good in orange and would like to see her wear this color again especially in the fall.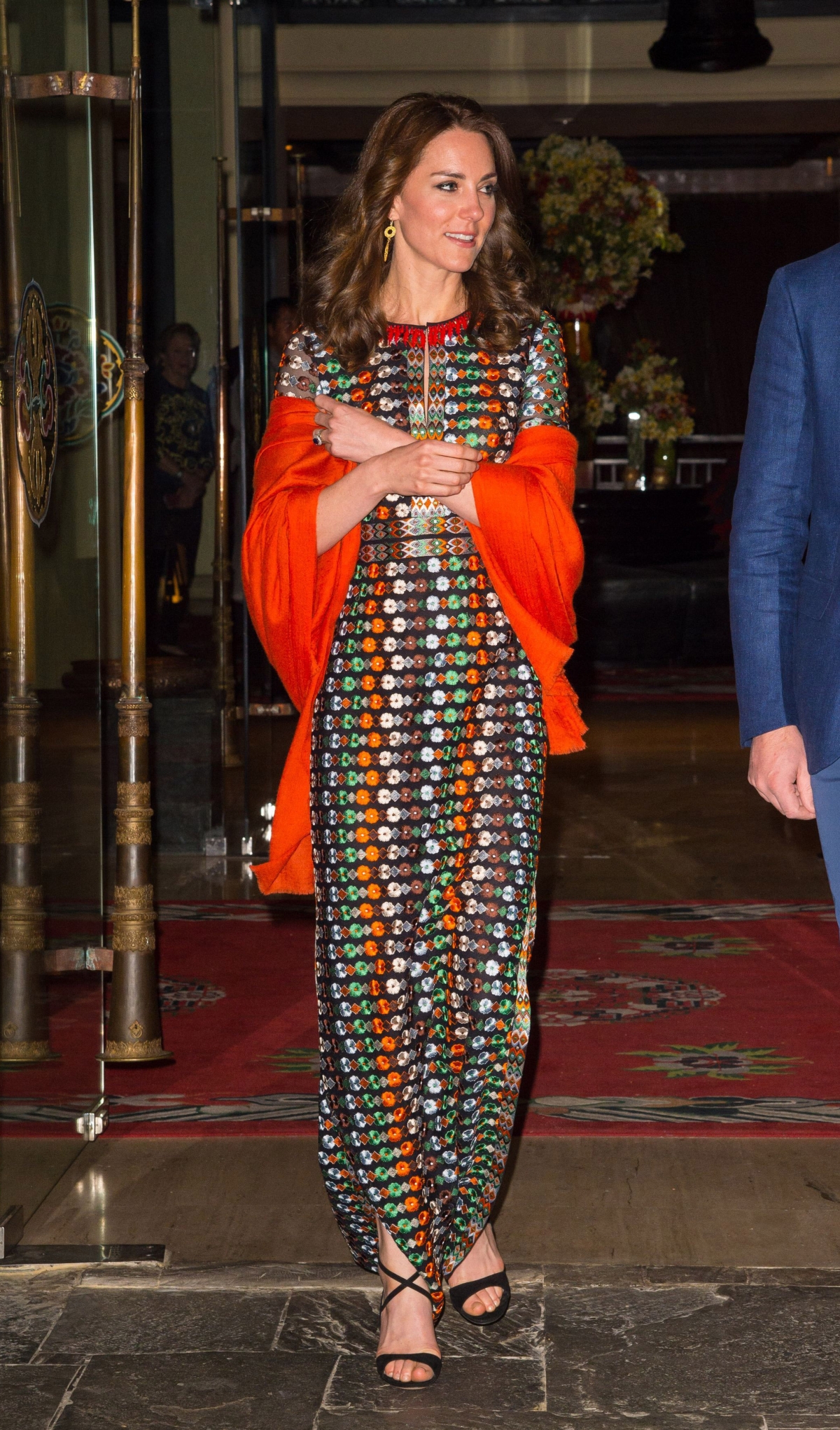 Coincidentally, Drew Barrymore wore this same exact dress on the same day that Kate did.
I think I like this dress a little better with the added orange shawl.
April 15th, 2016
On April 15th, Will and Kate went on a hike to the Tiger's Nest monastery in Bhutan.
So Kate wore a blouse, a waistcoat, skinny jeans, boots, and the citrine earrings I wrote about earlier. I'm not a hiking kind of a girl, but keeping in mind how incredibly hot it was in Bhutan and how difficult this particular hike is claimed to be (Prince Charles visited the Tiger's Nest but never made it to the monastery, he only got half way) I am not so sure this outfit is right for the occasion. Throughout the tour I followed what royal reporters were saying on their Twitter pages and apparently I am not the only one to question this choice. Camilla Tominey, a royal editor for the Sunday Express who went on the hike with a press pack to photograph the couple, said "Having just done this hike, may I humbly suggest that Kate's leather waistcoat is a tad misjudged. May also want to put her barnet up. #hot"
Kate's ability to hike up a mountain with her hair down while wearing a leather jacket and not breaking a sweat after hours in the sun led the Huffington Post to question "Is the Duchess of Cambridge Human?" 🙂
After the hike the Cambridges attended another reception. Kate wore a Beulah London red poppy gown. The blue poppy is the national flower of Bhutan.
April 16th, 2016
The Cambridges saved the best for last. On their final stop on their tour, Will and Kate flew from Bhutan back to India to visit the Taj Mahal in Agra. I would love to visit the Taj one day. It is not only a monument to love, but an architectural masterpiece.
I absolutely love this dress by Naeem Khan. Truth be told, he is one of my all time favorite Indian designers. I wish that Kate would have worn one of his gowns for the Bollywood reception. He is fantastic. I believe that he has been compared to Oscar de la Renta and Valentino. Here is a link to an article from Vogue showcasing his pre-fall 2016 collection. I think it is so lovely and although it cannot be purchased yet I just love looking at the various pieces he has put together.
I think Kate chose this particular dress because the pattern is reminiscent to the famous engravings that decorate the Taj. It was a great choice. (I wish she wore blue shoes to match, but I'm gonna let that go. 🙂 )
I don't believe that this dress is available anymore. But upon closer inspection, you can see that the dress on the model is shorter than Kate's. It looks like the designer added an extra layer of design for Kate to make it come to her knees. I would absolutely wear this dress and I hope Kate isn't afraid to wear it again because it was used for the iconic Taj Mahal photo. I'd love to see her wear it again with her hair pulled back and her sapphire and diamond earrings that match her ring.
So that's all folks! I hope that Will and Kate will continue to fulfill more royal duties. Now that Her Majesty has turned 90 years old and the Duke of Edinburgh will soon be 95, it only makes sense that it is now the time to pass on more responsibilities to the younger generation.
Don't forget to follow My Frugal Lady on Facebook!
Cheers,
The Frugal Lady