Hello ladies! I know what you're thinking, "long time no see" right? As I mentioned in my last post, my laptop broke and I was MIA for a while. But now I have a brand new laptop and I am getting all situated setting up my blog and picture files on the new one, so I think I am officially back in business now. Yay!
Anyway, for my first blog back on the scene after what I like to call "the laptop crisis of 2016" I have decided to do something I have never done before. This post is dedicated to predictions and suggestions for what Catherine, the Duchess of Cambridge may wear for her highly anticipated royal tour of India and Bhutan in April.
So without further ado, here is my take on what we may see Kate wear during the tour based on what she normally wears and her favorite designers. I also make some suggestions for what I would like to see Kate wear that might help change her public image a bit considering the ongoing scrutiny and controversy that has been surrounding the Cambridges in the press over the past month or so.
Business Casual/Professional
The exact schedule for what Kate and William will be doing on their tour has not been released just yet. So far the palace has only given us this press release. But I am assuming that there will be occasions where it will be necessary for Kate to wear business casual or professional clothing. In the past Kate has struggled with this dress code a bit, like when she wore a cocktail dress, clutch bag, and pumps to visit a women's prison last year. Commentators remarked that she was overdressed for the visit. They made similar remarks when she wore a lace Dolce and Gabbana cocktail dress to visit a museum early in the morning with the president and first lady of China. So I think it would be great if Kate could get some simple blazers to wear for more professional meetings and events that she might go to during the tour.
Maybe something like this tweed blazer by L.K. Bennett? Bennett is one of Kate's favorite brands.
See it here:
http://api.shopstyle.com/action/apiVisitRetailer?id=506598199&pid=uid9225-31713435-16
Or maybe this simple white blazer by Michael Kors.
See it here:
http://api.shopstyle.com/action/apiVisitRetailer?id=508018301&pid=uid9225-31713435-16
I also think that Kate would look good in the type of peasant blouse that Queen Rania likes to wear with a skirt or trousers during working engagements. I like the pink/peachy color of this one by Vince Camuto.
See it here:
http://api.shopstyle.com/action/apiVisitRetailer?id=511553344&pid=uid9225-31713435-16
But what I would really, really love to see Kate wear is a great pant suit or skirt suit. Something like this short sleeve blouse by Reiss, another Kate favorite.
See it here:
http://api.shopstyle.com/action/apiVisitRetailer?id=511411380&pid=uid9225-31713435-16
With these Reiss trousers in a light blue/gray that Kate likes.
See it here:
http://api.shopstyle.com/action/apiVisitRetailer?id=510627038&pid=uid9225-31713435-16
And the matching blazer. A pantsuit like this is very modern and professional. It's the type of outfit that Kate should wear if she needs to give a speech or attend a meeting.
See it here:
http://api.shopstyle.com/action/apiVisitRetailer?id=510627033&pid=uid9225-31713435-16
Or maybe something like this Tahari pearl boucle skirt suit? I think Kate would look really pretty in something like this. Although it does look very much like the Chanel skirt suits that Diana would wear after her divorce, so Kate may not want to wear something so similar. I think that she could still get away with it though because other royals like Hereditary Grand Duchess Stephanie of Luxembourg or Charlotte Casiraghi of Monaco wear skirt suits like this all the time so it's not just a Diana thing. Many royal women have worn boucle skirt suits.
See it here:
http://api.shopstyle.com/action/apiVisitRetailer?id=503966357&pid=uid9225-31713435-16
I also like this purple pantsuit by Tahari. I think the color is a little less harsh than maybe a black suit would be. And depending on how many events they have scheduled in one day Kate may not be able to do too many wardrobe changes and I really prefer it when royal women wear color when they meet children. Children seem to like it better when they meet a princess or queen who is wearing pretty colors.
See it here:
http://api.shopstyle.com/action/apiVisitRetailer?id=398198135&pid=uid9225-31713435-16
Princess Victoria of Sweden, Princess Mary of Denmark, and Queen Rania of Jordan all love Prada bags. I think this classic black Prada bag would be a great investment for Kate's professional wardrobe. She really only wears clutch bags during royal engagements and a lot of fashion and royal bloggers and commentators have said that they wish Kate would wear another style of bag during official engagements. I think something like this is perfect for business casual/professional dress.
See it here:
http://api.shopstyle.com/action/apiVisitRetailer?id=442788239&pid=uid9225-31713435-16
I really like the structure of this Michael Kors bag for business casual. I like the soft pink color for Spring. I think Michael Kors is a more affordable choice for those of us ladies who may be shopping on a budget.
See it here:
http://api.shopstyle.com/action/apiVisitRetailer?id=487428822&pid=uid9225-31713435-16
And also this gray Michael Kors bag.
See it here:
http://api.shopstyle.com/action/apiVisitRetailer?id=501442106&pid=uid9225-31713435-16
But if Kate still wants to wear a clutch, which seems to be her preference, I like this patchwork piece by Michael Kors. Pathwork is very 'in' right now, but it's a neutral color so it isn't too flashy. Kate is very understated in her choices of bags and shoes.
See it here:
http://api.shopstyle.com/action/apiVisitRetailer?id=510923662&pid=uid9225-31713435-16
And finally, to complete the professional outfit I am sure Kate will most likely stick to her beloved L.K. Bennett pumps. She has so many simple black pumps they are all starting to look alike, though. I think it would be nice if she bought this pair with a quilted pattern on traditional black patent leather pumps. It adds some unexpected texture to her shoes while still being relatively simple.
http://api.shopstyle.com/action/apiVisitRetailer?id=489320037&pid=uid9225-31713435-16
Bennett has a new style for Spring/Summer 2016 and I think it's pretty cool. It's called the "Rillata" heel and it has a neat cutout pattern. Again, this adds some texture or pattern to what is otherwise a pretty basic pump. I think Kate might like this.
http://api.shopstyle.com/action/apiVisitRetailer?id=512444413&pid=uid9225-31713435-16
I think my favorite is this version in black and white. It would go with everything.
http://api.shopstyle.com/action/apiVisitRetailer?id=503535006&pid=uid9225-31713435-16
Taj Mahal
There is one portion of the royal tour that has been confirmed by Kensington Palace. William and Kate will definitely be going to the Taj Mahal where they are certain to take a picture in front of the iconic building. Lots of presidents, prime ministers, celebrities, and foreign dignitaries have visited the Taj Mahal. In fact, Crown Princess Victoria of Sweden visited before she married Prince Daniel.
But the press are undoubtedly going to compare William and Kate to Diana's visit from 1992. She was there with Prince Charles, but they were so terribly unhappy in their marriage that they were attending separate engagements throughout the tour.
The Taj Mahal is universally acknowledged as a monument to love. It is a mausoleum that was commissioned in 1632 by emperor Shah Jahan to be built for his favorite wife, Mumtaz Mahal. Originally there was to be a second Taj built across from the Taj Mahal that was supposed to be exactly, perfectly alike to the Taj Mahal that is seen today and that is where Shah Jahan wanted to be buried so that he would always be across from his wife for all of eternity. But the second Taj was never built because Shah Jahan's son wouldn't allow it so when Shah Jahan died his son just had him buried in the Taj Mahal next to Mumtaz. It's actually a really fascinating story.
By posing in front of the greatest monument to love in the world all by herself without her husband, Diana was making a public statement on the state of her marriage and how lonely she felt.
When Diana was about to pose for this picture, photographers later commented that they didn't understand why she was wearing a bright red and purple outfit. But Diana did this intentionally so that her clothes would contrast against the light white color of the Taj behind her.
Bollywood actress Aishwarya Rai was probably thinking along the same lines when she wore red for this picture below.
And Oprah wore a really bright orange and green ensemble as well. Presumably for the same reason.
When Kate takes her picture I am hoping that she wears something colorful as well. I think Princess Victoria's picture turned out really nicely but in general it would probably be a good idea for Kate not to wear white so that she stands out more in the picture. Recently Kate wore a skirt and top by English brand Eponine, a relatively obscure fashion designer who specializes in clothing inspired by the 1950s and 1960s. You can see pictures of Kate in the outfit here. I have checked out other designs on Eponine's website and I think it is a safe bet that Kate may wear more of their clothing for the tour because it is all so colorful and I think that something by Eponine may be perfect for the picture with the Taj Mahal.
For example, I like how colorful this dress is. It's nice and bright like colors you would see in a Bollywood film and I think it would contrast well against the Taj Mahal.
And this red dress looks like Kate's style.
If you would like to see more of Eponine's clothing visit their website here.
Gala
And now here is the REALLY fun part to write about. 🙂 I am not sure if Kate is going to a gala while she is in India, but if she is these are some of the jewels and gowns that I would love to see her wear.
First comes Kate's wedding tiara: the Cartier Halo tiara. I would like to see her wear this again but if she does I think it would be nice for her to wear the earrings that her mom and dad bought for her as a wedding present. The swirly part of the earrings were made to look like the tiara but the acorns were incorporated into the design because they match Kate's coat of arms. You can see an explanation of why acorns are used in her coat of arms here.
Here is the Cartier tiara. Simple and delicate. Princess Margaret used to wear it.
And the earrings which I do not believe she has worn since her wedding day.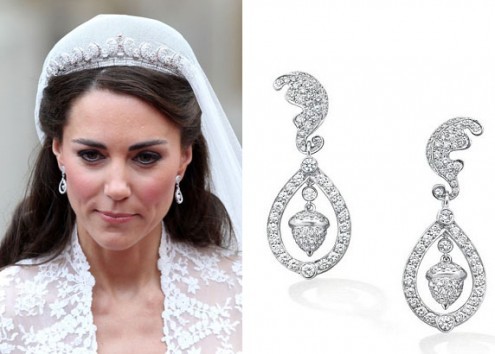 Since I am imagining her going to a gala in India (there could be a dinner in Bhutan,too) I think it is very possible that Kate would try and incorporate Indian culture into the dress she would wear for the dinner. For example, when Kate attended the Chinese State Banquet at Buckingham Palace she wore red because red is culturally significant to China. Similarly, Diana wore a dress designed to look like a sari when she was in Thailand which you can see here.
So I'm thinking that maybe Kate could wear the Cartier Halo tiara with her matching earrings with something like this Oscar de la Renta gown that was "designed in close collaboration with Indian artisans" and is inspired by the structure of a kaftan.
See it here:
The Oscar de la Renta gown has beautiful silver metallic embroidery that would look great with the tiara, earrings, and these sparkly Jimmy Choo pointed toe pumps and matching Jimmy Choo clutch.
Here are the shoes:
And here is the clutch:
http://api.shopstyle.com/action/apiVisitRetailer?id=480530724&pid=uid9225-31713435-16
For Kate's first state banquet (for the president of China) she wore the Lotus Flower tiara. The tiara was worn by Queen Elizabeth II's mother, Queen Elizabeth the Queen Mother. She used to wear it across her forehead in a bandeau style back in the 1920s or 30s (picture on right) but it can also be adjusted to be worn in a more traditional way. You can look closely at this picture of Kate and see that they added brown padding to match her hair on the bottom of the tiara so that it sits properly on her head. She is most definitely going to use this tiara again and like her wedding tiara, this piece was also worn by Princess Margaret when she was young.
Now, when Princess Diana first married into the royal family she was given an amazing emerald suite by Prince Charles who has famously good taste in jewelry. Check out this article on the jewelry he has given Camilla and you will see what I mean. In this next imagined outfit I am putting together I would love to see Kate wear the Lotus Flower tiara plus Diana's emerald earrings and matching choker. But the problem is I am not quite sure what happened to the emeralds after Diana's death because I am reading conflicting information from different sources. According to her will, Diana wanted William and Harry's future wives to inherit her jewelry but unfortunately some people sold her belongings after her death and hid portions of her will and other nasty drama so I don't really know where these emeralds are.
But if there was a way for Kate to wear the Lotus Flower tiara and Diana's emerald choker and earrings I think it would look awesome with something like this green gown by Elie Saab, who is a royal favorite with people like Queen Rania of Jordan and Hereditary Grand Duchess Stephanie. I like the fact that it has one shoulder because it reminds me of the style of a sari. Kate has the height to pull this off really nicely.
See it here:
http://api.shopstyle.com/action/apiVisitRetailer?id=501937641&pid=uid9225-31713435-16
If Kate is going to attend a gala dinner or banquet in India another great tiara option would be the Cambridge Lover's Knot tiara. It was most famously worn by Queen Mary, Queen Elizabeth II during the early years of her reign, and then passed down to Diana on her wedding day (although Diana decided to wear the Spencer tiara for her wedding instead, she often wore this piece throughout her time as Princess of Wales and it is very closely associated with her).
I don't think Queen Elizabeth liked it very much because she didn't wear it often. Diana once complained to a friend that the way the pearls move when she moved her head bothered here so maybe that's why.
Kate has only worn this tiara once but she was in the back of a car and this is the best photo we have of the event. Considering that Kate is the Duchess of Cambridge I think that it would be very appropriate for her to wear the Cambridge Lover's Knot Tiara again.
And if she did I would love to see her wear it with a dress like this strapless gown by Carolina Herrera. I think it's a real princess-y gown and looks like something that Audrey Hepburn used to wear. Kate loves this shade of blue so I bet she would love this gown.
See it here:
http://api.shopstyle.com/action/apiVisitRetailer?id=494457006&pid=uid9225-31713435-16
Since the gown has black beading and embroidery I would probably pair it with these black Louboutins called "So Kate." I'm thinking that maybe they named these pumps after Kate because they are precisely her style. 😉
See them here:
http://api.shopstyle.com/action/apiVisitRetailer?id=497227100&pid=uid9225-31713435-16
And a nice black clutch would work well. I like this one by Gucci because it has a little extra "bling" and I think the suede is pretty.
See it here:
http://api.shopstyle.com/action/apiVisitRetailer?id=479546173&pid=uid9225-31713435-16
Keeping in mind that Kate has her famous sapphire engagement ring I would love to see her wear the King George VI Victorian Sapphire Tiara Suite. I don't think that is very likely because the Queen has never let anyone else borrow this suite (that I know of), but then again she hasn't been seen wearing it in quite some time so it could happen. The suite comprised of earrings, necklace, bracelet, and a pendent that can be worn as a brooch was given to the queen by her mother and father when she was still a princess as a wedding gift when she married Prince Phillip in 1947 and then the Queen had the matching tiara commissioned in 1963. This is pretty rare because Her Majesty is famously frugal when it comes to jewelry and hardly ever buys anything for herself. I suspect that the suite holds sentimental value to her since it was given to her by her beloved father before his death and she decided she wanted a matching tiara.
If Kate could wear the sapphire suite I would probably make it the center of attention and opt for a more understated gown so that the large jewels can really stand out. I like this dress by Monique Lhullier who always makes very pretty, elegant dresses.
See it here:
Kate has often worn Alexander McQueen and even had Sarah Burton for Alexander McQueen design her wedding gown so maybe she could wear a McQueen clutch. This one is a true work of art (and also really expensive, but she's a princess and she can wear it more than once, right? 🙂 ).
See it here:
Like I said before, the complete schedule for William and Kate's tour of India and Bhutan has not been revealed yet so I am not sure what kinds of clothes Kate will need. But based on the fact that Kate has been wearing more Dolce and Gabbana over the past year I could see her wearing some of these pieces if not on the royal tour than maybe for other events in the future this Spring.
I think this dress is particularly ladylike. I like the poppies and daisies.
See it here:
I would probably wear these D and G yellow pumps to match the yellow bits in the daisies.
Find them here:
In the past when Kate has been seen wearing D and G she mostly wears their lace dresses. Dolce and Gabbana have made some pretty lace dresses this season in white. I like this one and can imagine Kate buying this for sure.
Find it here:
There is also this one. I bet you guys that she has purchased this dress already, it has Kate written all over it.
See it here:
See it here:
I also think that this colorful D and G bag would look really nice with one of the white lace dresses. I think it's fun.
See it here:
One last piece by Dolce and Gabbana is this pretty green dress with a feminine daisy pattern. It's appropriately modest but still bright with some flowers for Spring. I could see Kate wearing this.
Find it here:
I don't really have any fashion suggestions for this part of the tour. I think the most important thing is that Kate (and William) dress down in simple clothes. Nothing too designer, nothing too fancy. And that they show the people they meet respect and sincere interest and empathy. They don't want to be overdressed because they will risk looking pretentious, but they also want to be down to earth and personable without being patronizing. Here are some royal ladies who have done that really well.
Crown Princess Mary of Denmark
Crown Princess Mette-Marit of Norway
Diana, Princess of Wales. This was around the time in the 90s when she was doing a lot with the Red Cross's Anti-Landmine Campaign.
And Prince Harry, too. He is very much his mother's son.
And here is Crown Princess Victoria of Sweden when she went to India. She visited a project supported by Swedish aid agency, SIDA. Victoria always lights up around children and is very sweet.
William and Kate just need to show the world that they really care. I hope that they do well on this tour and that they can stifle some of the negative press attention that they have been getting this past month. With the Queen's 90th birthday celebrations quickly approaching it doesn't seem fair that the press has decided to focus on bad PR regarding William and Kate instead of focusing on the Queen's milestone birthday. Watch this space as I will be blogging throughout the royal tour to see if any of my predictions were correct.
And thank you to everyone following My Frugal Lady on Facebook! ❤
Cheers!
The Frugal Lady